2019 colors
Fiesta del té

Fiesta del té
Recuerda: ¡los meñiques arriba, señoras! Se parece más a un sueño desde la distancia, pero al pasar por las puertas francesas blancas recién pintadas, descubrirá la habitación cuidadosamente decorada con colores pastel. Desde las servilletas azul tiffany, colocadas a la perfección en cada plato reluciente, hasta los macarrones rosa rubor que se sientan al lado de las tazas blancas perladas, cada detalle está hecho para ser estéticamente agradable. Hermosos melocotones y vestidos dorados cubren las elegantes sillas de color azul plateado, mientras que las damas tocan la China Fina con los meñiques en el aire.

Instintos primarios

Instintos primarios
Los comportamientos cableados de los colores. El cobalto honesto y verdadero es firme y directo, mientras que celeste reacciona rápidamente con asentimientos tranquilizadores. A la izquierda de Celeste se sentó tranquila y recogió a Eggshell, quien lucha por contener el color verde hablado. Abrumado por la emoción, rojo manzana y rosa intenso con emoción. Incapaces de contenerse, estalló el albaricoque y la naranja de mandarina para deleitarse con la sorpresa de la noche. Demostrando, una vez más, que no importa cuánto intentes, tu reacción inicial cae cerca de los instintos primarios.
2018 colors
WONDERLUST Color
A strong palette spring / summer with a wide range of energetic colors balanced by tall pastel tones and a solid base of dark tones. This section describes the main colors, essential highlights and creative combinations for each of the three themes of S / S.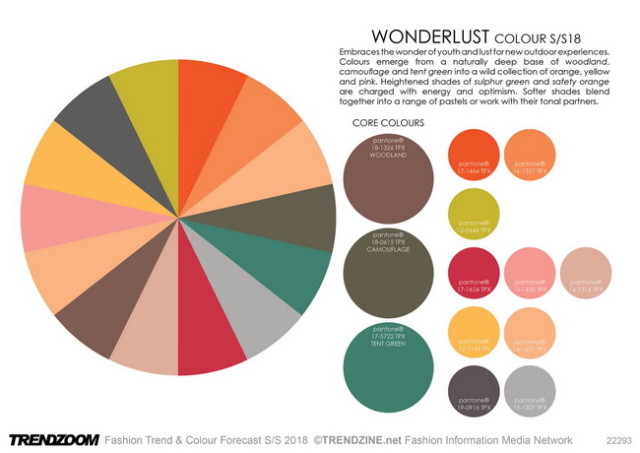 Wonderlust colors naturally emerge from a base deep forests and green camouflage tent on a wild collection of orange, yellow and pink. Augmented shades of green and orange safety sulfur are loaded with energy and optimism. The softer tones are combined in a range of cakes or work with their tonal partners.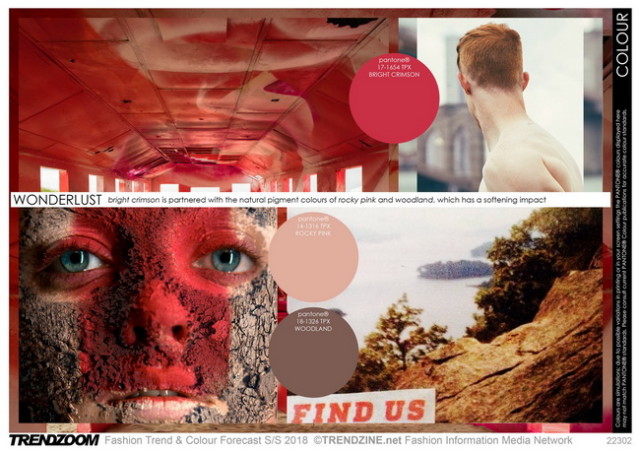 Phases style define the combinations of important colors used in fashion and highlight key tones of the three items of S / S 2018. Here is bright crimson associated with the colors of natural pigment of rocky pink and forests, having a softening impact.


TENDENCIA MOOD: SHUFFLE
Remixers are the new artists of the creative generation of slash / slash crossing across disciplines, bringing a new approach to design. These individuals are shaking things and disrupt the establishment; Designers such as Alessandro Michele, Demna Gvasalia and Grace Bonner Wales.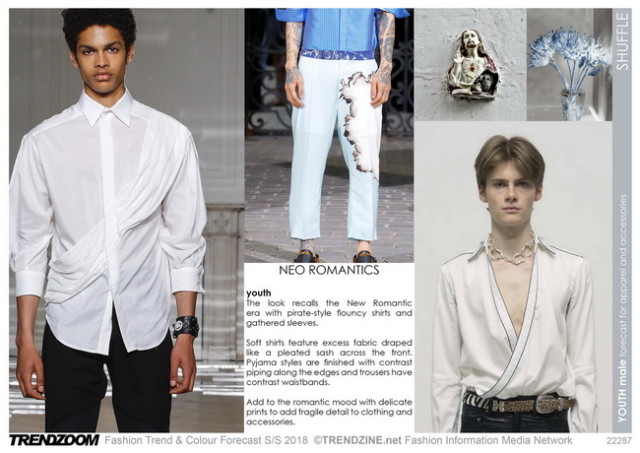 This trend of youth recalls the new romantic era with soft shirts and covered panels.
Color Report
Red brick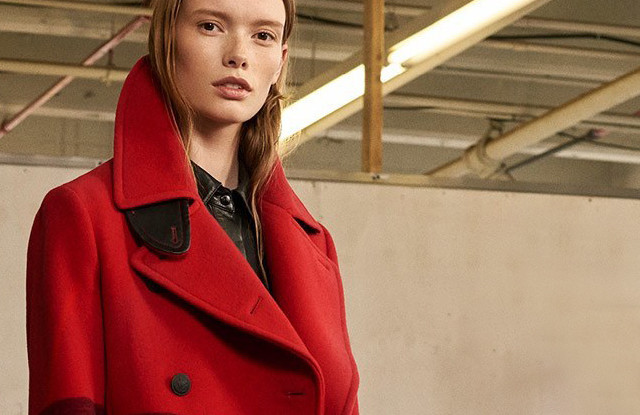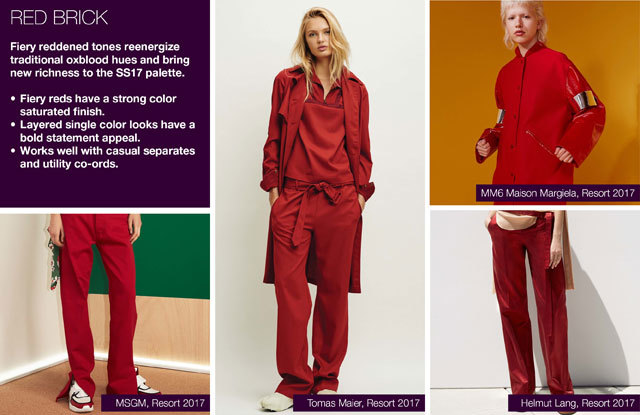 Reenergizan fiery shades tones traditional ox blood and bring new wealth to the SS17 palette.
burning red have a strong end saturated color.

The looks on the single color layers have appealed bold statement.

It works well with occasional separation and co-ords useful.

.

Vanilla cream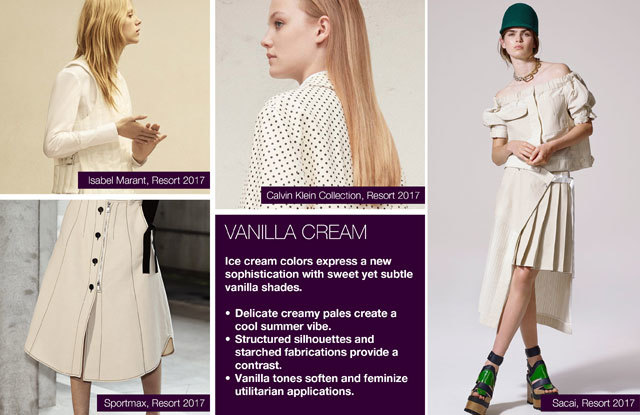 Ice cream colors express a new sophistication with sweet but subtle shades of vanilla.
Delicious creamy pastels create a fresh atmosphere of summer.

Silhouettes structured starched fabrications provide a contrast.

Vanilla tones soften and feminize utility applications.

Cotton rich ink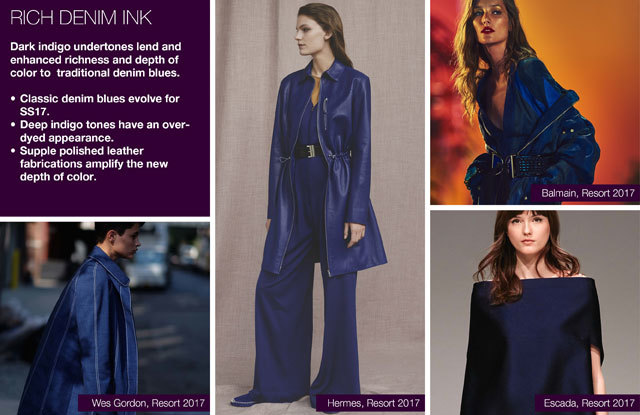 Dark indigo shades lend and enhance the richness and depth of color to the traditional blue denim.
Denim blues classics evolve to SS17.

Deep indigo dyed shades have a look.

Fabrications polishing and flexible leather amplify the new color depth.
Relaxing nature, soothing colors in the spring collections are led by quartz pink, a persuasive but soft tone that conveys compassion and a sense of composure. Like a serene sunset, red cheek or a flower budding rose quartz reminds us to reflect on our environment during the spring and summer months.
The fashion and design communities, and consequently, consumers have been orange in love for several seasons. Coming to the fore this season is, peach Echo, a tone that emanates friendly qualities, evoking the warmth and accessibility. It is an all - encompassing, tempered partner in orange playful family.
Weightless and airy, like the expanse of blue sky above us, Serenity comforts with a calming effect, providing a sense of relief, even in turbulent times. A transcendent blue, serenity gives us a natural sense of space connected.
Maritime-inspired blue, blue Snorkel plays in the marine family, but with a stronger context happy. The name alone implies a relaxing holiday and encourages escape. Striking and yet much activity break its nuances.
While most trends palette spring / summer to tranquility, few detours offer a contrast theme. With soft greens, designers reveal a shining beacon transports us to a sunnier, happier place.
A shade of aqua leaning towards green family, lapa Shell is clear, clean and defined. Suggestive of clarity and freshness, its clear and modern influences evoke, tranquility conscious deliberate.
As in most any season, the need arises neutral. Essentially a basic, subtlety of tone lilac, Lilac Gray, adds a distinctive edge to this classic tone gray.
A color transition that will take us through the seasons, Iced Coffee manifests as another strong neutral for the season. With its natural, earthy quality, softness and subtlety of Iced Coffee creates a stable base when combined with the rest of the palette this season.
Green Live takes its wearer to explore, push and escape from the mundane, radiating an opening that matches the rest of the palette in unexpected ways, but casual. The popularity of this bright color is representative of the persistent influence of nature, even in urban environments, a continuing trend to inspire designers.
Courtesy of Trendzoom